Wayne Brophy
Jan 27, 2020
What makes Procurement professionals want to leave their job?
In the current candidate-driven market, it is becoming more and more important to attract the best talent to grow your business. But do you know what makes Procurement professionals want to leave their job? We recently surveyed 450+ professionals to create this year's 2020 Salary & Benefits Guide. Our survey sought to find out the reasons people look to change jobs and what benefits attracted them to a new employer.
"What was the most influential factor that would make you look for another job?"
Our Survey says:
Top-rated influential factors voted for by Procurement professionals (based on their first-choice selection):
1st Feeling undervalued in their current role
2nd Uncompetitive Salary
3rd Company Culture/ethos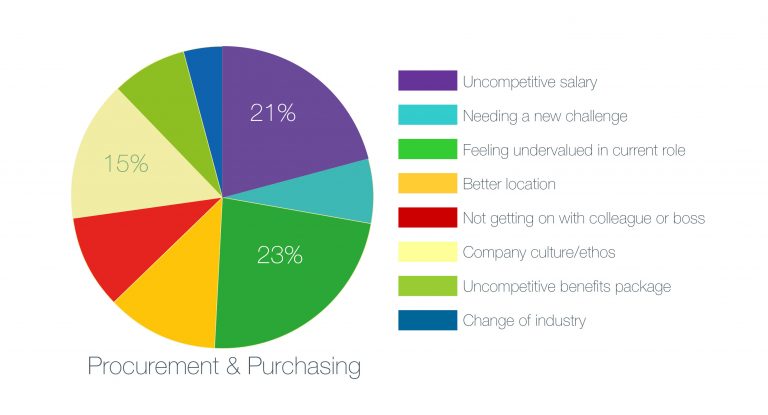 Procurement professionals surveyIn first place, we can see that "Feeling Undervalued" was placed first by 23% of those surveyed. It tallies with surveyed satisfaction rates for Procurement professionals for "Career Progression" and "Training & Development", which scored very poorly – with 50% & 49% unsatisfied (Download our Salary & Benefits Guide 2020 to see the full results). This reflects perhaps the level of roles people are in and the fact that employers expect a certain level of existing knowledge. It's interesting to note that all our other surveyed specialisms placed "Uncompetitive Salary" in first place, this complements results for "What do you value most when looking for another role?" Perhaps unsurprisingly, (across all Supply Chain, Logistics & Buying specialisms in fact) "Salary" topped the list, with a "Challenging/purposeful role" second and Company culture/ethos came in third. Salary levels in general in Procurement have remained constant over the last year, reflecting the current economic conditions in the UK of low growth rates & challenging conditions. One thing that does stand out here is the number of candidates selecting "Company Culture / Ethos" as a factor influencing them to look for a new role. This came 3rd in three out of four surveyed specialisms: Procurement & Purchasing, Buying & Merchandising, and Logistics, Transport & Warehousing. There is a lot of available research out there proving the importance of company culture & of hiring new employees that either fit with your company's personality or bring something new & complementary to it.
"The result of poor culture fit due to turnover can cost an organization between 50-60% of the person's annual salary"

 Society for Human Resource Management (SHRM)
Employer Branding & EVPs
We have been talking about Employer Branding & the importance of it to our clients for the last couple of years now, offering Employer Branding as part of our EDGE product. As the Skills Gap continues to bite it is becoming more & more important for companies to do all they can to attract the best talent they need for their businesses to thrive, by ensuring company culture is communicated clearly to attract the kind of candidates they need. Remember that Employer Branding can also help retain existing valued team members and reduce recruitment costs (Check out our True Cost to Hire Calculator here)
If you ensure it includes a relevant Employer Value Proposition (EVP). This sets out clearly what your company offers its employees. Therefore, your EVP must appeal to your ideal employee profile thereby help to retain existing staff and help reduce recruitment costs. (If you're interested to know more about creating an EVP – check out our blog: 7 Steps to creating an irresistible Employer Value Proposition here) Download our Salary & Benefits Guide 2020 here