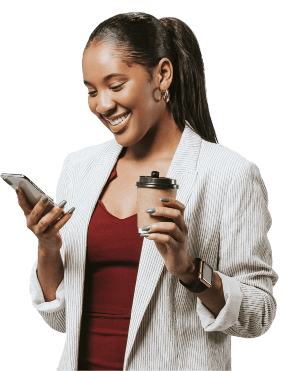 Looking to advance your career?
If you're looking for your next career move we'll be happy to support you in your job hunt. Get in touch with us today to start your career search.
Register with us
Our promise
Good (service) is not enough. Just ok is not ok. We go the extra mile, exceeding your expectations at every step of the relationship.
We treat every candidate as an individual.
We aim to develop a clear understanding of your present role, career to date and aspirations for the future when considering roles for you.
We never pressure a candidate to consider a role that is not suitable for them.
Our purpose
We aim to set new standards in service and recruitment solutions resulting in rewarding and lasting relationships.
We take time to fully understand the requirements of the role, and the company culture, so that we only put you forward for the most suitable roles.
We strive to support you through your job search journey, offering advice or interview coaching.
We take data protection seriously and will never send your details to a client without your approval.
We never pay lip service
We believe in the importance of authenticity and integrity.
We take the time to fully understand the role and company culture.
We only recommend clients and roles that match your personal preferences.
We are transparent and provide honest feedback wherever possible.
We will be open in negotiations when acting as the middle-man between candidate and client.
We never stand still
We strive for innovation in our services to establish and maintain long-lasting rewarding relationships.
We recruit for the best companies to work for, along with the cream of available roles.
Our innovative, market leading website offers a secure interactive portal allowing you to update your database profile at any time, ensuring your correct details are available for matching to relevant roles.
We are constantly reviewing our processes to ensure we provide a better and faster service.
See what our candidates have to say...
Cast UK contacted me about a potential job after finding my CV on a job site and I would recommend my consultant to anyone. She was very friendly and always prompt to respond to any of my questions about the company. It was great having a helpful consultant feeding back to me and keeping my confidence up for the interviews. I am now 6 months into the job and loving it- Thanks Cast UK!
Megan Thorburn
Assistant Merchandiser - Getting Personal
I would highly recommend Rosie to help with your job search as she goes above and beyond to help and support. Rosie has always kept in touch over the years to keep me updated with any new and exciting opportunities in the market place that I might be suitable for, that is how I ended up in my latest role.  I am now in my dream role with a young exciting company with loads of opportunity.
Lindsay Brittles
Senior Merchandiser - Prettylittlething.com
I have both been placed in roles and had roles filled by Cast UK and can say they are one of the best recruiters in Supply Chain I have worked with. They have extensive specific Supply Chain knowledge and are great with candidates, setting them up to succeed in the interview and ensuring they are well prepped.
Steph Davis
Head of Supply Chain - Vision Direct
Cast UK did a brilliant job helping me land a new position. My consultant spent the time to understand my requirements and matched my strengths to the role. She helped me get to know the company prior to the interview and communicated well and often throughout the process and after I joined. Everyone at Cast UK was a pleasure to deal with and very professional.
Geoff Higham
Strategic Procurement Manager - Trelleborg Group
Cast UK have been extremely helpful and supportive all the way through out the recruitment process. My consultant made sure my transition to my current role was a smooth one and was nothing short of amazing. Would highly recommend.
Reo Ellis
Merchandise Assistant - Footasylum Ltd
Just wanted to say thank you to Rosie for placing me in a really good role :) the whole process was very smooth and I enjoyable rather than stressful. Rosie was constantly in touch with me (and she still is ) so I felt very well looked after. Couldn't asked for better consultant and for the job at the end which was a success! Thank you!
Berenika Kaczmarek
Import Merchandiser - Ballyclare
Really helpful and professional from start to finish in the process of me finding my new role, as well as following up once placed and settled. Thanks Rosie for all the help!
Adam Boaks
Merchandiser - B&M
My experience with Jack has been great. He knows what he is doing, reliable and on point.
Yefin Marsiglia
Warehouse Operations Manager - Try Market Halls Limited
In a word, the process with Cast UK has been fantastic! I've dealt with many recruiters in the past and it's fair to say Cast UK have been the best by a country mile, from first contact to the total support on every phone call. My consultant saw the potential in me and my experience and projected this to my new employer. It's clear that you care deeply about your candidates success, thank you for helping me!
Paul James
Transport Manager - Enva
Cast UK were absolutely fantastic when it came to helping me look for a job. My consultant took the time to really get to know exactly what I was looking for and what my personality was like. She recommended the perfect company to me based on my personality traits and exactly what I wanted from the next step in my career and I couldn't be happier with the result as I was placed in said company.

 
Heather Lupton
Category Buyer - Flint Group
Brilliant consultant, very supportive all the way. Great experience working together, my consultant was clear of my expectations, experience, what I aimed for in the next step in my career and who I would like to work for and worked her best to achieve it together! I am very happy in my new role!
Talita Toledo de Oliveira
Wholesale Merchandiser- Footasylum Limited
My consultant was very helpful, informative and professional when helping me to move roles. She was available throughout the entire process and more than happy to help with any queries. I would highly recommend Cast UK.
Antonia Gilmore
QA Technologist - B&M
Rosie was really helpful in getting me into a new supply chain position! Always in contact and kept me in the loop :) Highly recommended!
Andrew Tucker
Commercial Stock Analyst - Simon Jersey
Louise went above and beyond in my search for a new role and equally as important, gave me the confidence to attain it. The turnaround speed from first contact to successful interview was amazing and can't speak highly enough of Louise.
Craig McCarthy
Product Executive - Hoover Candy
I genuinely couldn't recommend Rosie more. Thanks to Rosie's support I was successful at interview and have now been in my new position for a number of weeks. I couldn't be happier with the role or the Company.  I would highly recommend her services to anyone considering their next career move.
Jodie Glover
Merchandising Assistant - Footasylum
Rosie was extremely helpful on my behalf during my recent career move. I would not hesitate to use her again in the future.
Tom Millen
Senior Merchandiser - B&M Retail Limited
Rosie was very professional and friendly from the outset. She took the time to understand the type of role I was looking for, my salary expectation and what skillset I could bring. I found that she was in regular contact with me throughout the process which really helped and always responded quickly to any questions I had, liaising between myself and the potential employer.

 
Jordan Mather
Buyer - Mawdsley-Brooks & Co Ltd
Louise is a great recruiter from start to finish. Very professional and friendly she ensures the whole process is smooth and transparent from sharing your CV up to interview day. I would recommend her both from a candidate and client perspective. Keep up the good work!
Ranni Kaur
Buyer - Sun & Sand Sports Prev
Thanks Rosie for making my transition in jobs so smooth and stress free! She gave me great tips for my interview and was very promp with feedback and any update. Thanks again!
Megan O'Keefe
Assistant Merchandiser - B&M
Rosie's customer service, interaction and knowledge of her client and their candidate targets are second-to-none. Rosie was on hand and responsive all the way through the process from initial contact to confirming my job offer. An absolute pleasure to work with. Thanks again Rosie!
Jacob Staniforth
Merchandiser - B&M
Annabel helped me secure a position with an exciting growth company. She recognised my strong background and experience in a niche product area and pushed the employer to interview. Without Annabel's support, I wouldn't have had the opportunity to talk to the employer and wouldn't have the same exciting future ahead as I now have.
Gary Purnell
Senior Buyer - Horicultural
Rosie has been majorly helpful in helping me find a new merchandising role and more importantly, focused on finding the right role. Always proactive and kept me informed. Cheers Rosie!
George Burgess
Junior Merchandiser - JD Sports Fashion Plc
Can't thank Rosie enough for her help over the past few months. Constantly catching up with myself when I was looking for a new role and also finding the best roles most suited to what I was looking for. I would highly recommend Rosie to anyone looking for a new career. Many thanks, Alex
Alex Wright
Assistant Merchandiser - JD Sports
Fantastic, professional and a pleasure to work with. No stone was left un-turned when it came to ensuring the correct fit and preparation for the vacancy.
Paul Love
Operations Manager - Wincanton
Cast UK was an amazing help when searching for a new role. My consultant supported me throughout the process and kept me in good spirits…definitely a dedicated recruiter!!
Nnenna Ajah
Far East Merchandiser - A.S. Watson Health & Beauty
Cast UK has been absolutely excellent with my Job search. My consultant has kept me completely in the loop with my application and also kept in touch once I had been accepted for the job. I can't recommend them enough!
Thomas Mead
Merchandiser - Simon Jersey
Whilst working with me, Rosie was very professional and friendly and kept me updated whenever she could. She was very informative about the role, gave me tips for the interview and was generally very helpful and was very easy to talk to. I'm very grateful to her for finding me a role that I really enjoy and would recommend her to anyone searching for a new job.
Rose Warren
Product Researcher - Mawdsley-Brooks & Co Ltd
Cast UK are the most professional and more crucially, the most 'on it' recruitment consultancy I have been lucky enough to encounter. They were innovative in their approach and I was staggered by the number of great opportunities they proactively organised in a very short period of time. I would have no hesitation in recommending Cast UK.
Rhoen Nicholson
Buying Manager/Senior Buyer - Yours Clothing
Cast UK contacted me about a potential job after finding my CV on a job site and I would recommend my consultant to anyone. She was very friendly and always prompt to respond to any of my questions about the company. It was great having a helpful consultant feeding back to me and keeping my confidence up for the interviews. - Thanks Cast UK!
Megan Thorburn
Assistant Merchandiser - Getting Personal
My consultant and the Cast UK team have been amazing! I will always highly recommend Cast UK; my consultant is professional and extremely competent. Cast UK helped me find the right position and identified my ideal job for me. I have always wanted to work for the company in which I have been placed and I really appreciate your assistance in getting me there.
Sukhpal Walia
Transport Supervisor - Bidvest
I would like to thank my consultant at Cast UK for all your help in finding me my new job role.Your one to one service has been fantastic and your background knowledge into the businesses you recruit for was priceless.
Thanks again to my consultant and Cast UK for all your help!
Martyn Percival
Warehouse Manager - Arrow XL
I would like to take this opportunity to thank Cast UK for their assistance and professionalism in helping me secure this position. Your co-operation and communication throughout has been 1st class, it has been a pleasure dealing with you and your team.
I would like to thank you for your on-going support.
Shaun Parrington
Operations Manager - Nights - Travis Perkins Plc
Cast UK recently helped me gain employment back into a profession I love. Cast UK was professional and very helpful from the first engagement and even keeps in contact to see how I am doing. If you are looking for a job in the logistics industry I couldn't recommend anyone better for the job.
Matt Pye
Warehouse FLM - Arrow XL
Cast UK are truly fantastic to work with. Attentive, supportive and good judges of character, which gave me confidence knowing that they would find the most suitable role for me. My consultant was extremely diligent and knowledgeable in her field and I couldn't recommend her and Cast UK highly enough.
Chris Archer
Senior Buyer - Pretty Green Ltd
Cast UK provided me with an incredible service that was second to none. Attentive and helpful throughout the process. Eventually placing me in a role that suited my circumstances and ambition. I very much felt a sense of genuine care from them and could not be more grateful for Cast UK support and perseverance.
Rebecca Quarmby
Product Development Manager - Widdop Bingham & Co.Ltd
I can't speak highly enough of Cast UK. My consultant approached me with with a role, and throughout the process of interviewing she was so helpful. From beginning to end, she guided me to ensure I knew exactly what to prepare and what to expect, going above and beyond. I can't thank my consultant and Cast Uk enough for their guidance through the process.
Lucie Brett-Moore
CRM Executive - A.S. Watson (Health & Beauty)
My Cast UK is very focused on projects and clients, always ensuring thorough research and investigation in all relevant companies within the industry for full consideration. Cast Uk have a really good wide network across retail and maintains strong links to all their contacts due to their excellent communication skills. The consultant I dealt with has a great friendly personality and combined with her efficiency, this made the recruitment process seamless.
Sue Shields
Senior Buyer - Fenwick London
Cast UK was brilliant in finding me my new position. They kept me up to date at all times and was really quick with feedback following my interview. There was lots of regular contact throughout and I'm made up to have secured such a good position with the help of Cast Uk. After a few bad experiences with other recruiters, Cast Uk was a breath of fresh air and I'd happily recommend them to anyone looking for a new position.
Katy Arkell
Junior Merchandiser - B&M
My consultant at Cast UK was an absolute pleasure to work with. She was receptive to the roles and companies I was interested in and worked extremely hard to get me my dream role. I couldn't recommend her more highly. Thanks for everything
Adam Taylor
Buyer/ Product Merchandiser - All Saints Ltd
I couldn't recommend Cast UK highly enough; I was contacted regularly and always kept up to date with all aspects of my new job enquiry. A massive thanks for helping me find my new position and even contacting after commencement of my new position to see how I am settling in. Thanks for all the time and effort you have shown me over the past couple of months and placing me into a position that matches my skills.
Alan Linley
Logistics Manager - HSL Chairs ltd
My Cast UK consultant was supportive and engaging throughout my job search. She took time to understand my skills and requirements and built up a good rapport. She had a great understanding of the jobs she was recruiting for and was particularly helpful when preparing for interviews. Overall, I feel Cast UK are excellent recruitment consultants and I would be very happy to work with them again.
Steve Ashton
Merchandise Planner - Wyevale Garden Centre